A 2022 Forecast
The Orange County Housing Report
Written by Steven Thomas
Happy new year!
Now, what does that mean for Orange County Real Estate?
First, let us look back at what happened in 2020 in terms of the inventory, demand, luxury properties, and the expected market time.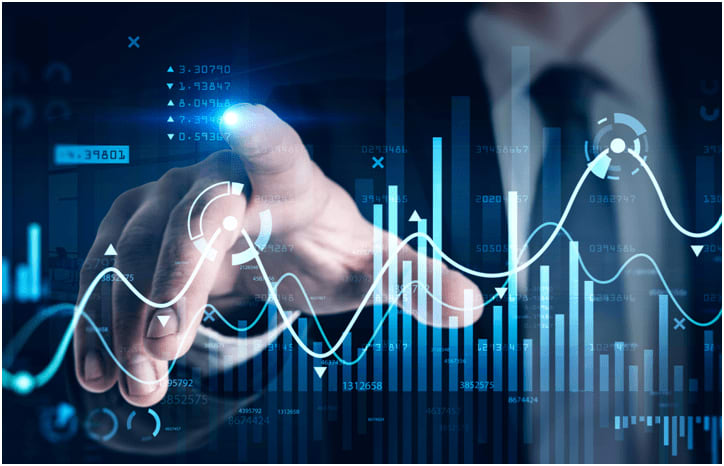 Copyright 2021 - Steven Thomas
Reports on housing - all rights reserved
This report may not be reproduced in whole or part without written permission from the author
Active Inventory
After starting the year with are cord low number of available homes top ur chase, the inventory did not increase like it typically does and ultimately plunged to new record lows.
The year started off with an active inventory of 2,522 homes, the lowest level to start a year since tracking began in 2004. Typically, the inventory continuously climbs until peaking between July and August, but not this year. The inventory peaked on January 8th at 2,633 homes, dropped to 2,214 at the start of June, and then climbed slightly to 2,537 at the end of July, not much of a change for the first 7-months of the year. The 5-year average peak prior to COVID was 7,077, an astonishing 179% higher than this year. From August through year's end, the number of available homes continuously dwindled down to unprecedented levels. The year finished with 1,072 homes, 60% lower than last year's 2,675 records low level. The 5-year average end of December reading prior to Covid was 4,414, a mind-blowing 312% higher than 2021, quadruple today's level.
With fewer homes coming on the market and soaring demand, the active listing inventory reached record low levels. It dipped below 3,000 homes for the first time ever at the end of 2020. It then dropped below 2,000 homes at the end of October. The inventory is poised to drop below 1,000 upon ringing in the New Year.
Orange county active listings year-over-year (2018 - 2021)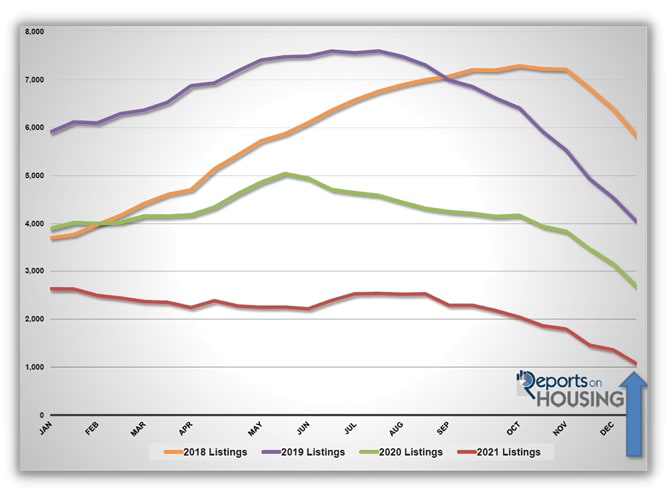 Covid-19 suppressed the inventory in Orange County in 2020, but this year the lack of homes available to purchase sidelined many homeowners contemplating making a move. They did not want to participate in a market fraught with tremendous competition, multiple offers, and purchase prices way above their asking prices. From January through November, there were 7% fewer homes placed on the market compared to the 3-year average prior to Covid (2017 to 2019), 2,517 fewer. Including 2020, there were 5,129 missing for-sale signs. That may not seem like a lot, but every single missing sign just magnifies the inventory crisis.
The "supply problem" that everybody talks about is due to heightened buyer demand fueled by historically low mortgage rates matched with an inventory that was already trending lower prior to Covid. The inventory crisis is so acute that it has limited the number of closed sales in Orange County. There is plenty of excess demand from buyers unable to isolate a home to purchase.
Orange County Housing Report | A 2022 Forecast
Demand
Demand has been elevated all year long with buyers lining up to see every new home in a market plagued with not enough homes for sale.
Demand for Orange County homes (the number of pending sales over the prior month) followed a normal strong housing pattern. The Spring Market was the hottest, followed by the Summer Market, then the Autumn Market, and, finally, the Holiday Market. The demand followed this seasonal pattern which mirrors when homes are placed on the market. The most come on during the spring and the least come on during the holidays.
At the beginning of the year, demand for Orange County homes (the number of pending sales over the prior month) was up 32% compared to the start of 2020, prior to COVID impacting housing. Demand was at the hottest levels since 2013 for the first six months of the year but dropped below 2020 readings by the end of June. Demand was limited due to the inventory catastrophe that became extremely acute this year. Demand is measured by recent escrow activity but is not a reflection of true demand, the number of buyers in the marketplace. The true demand is a lot higher yet is impossible to gauge. The throngs of showings for just about every home that hits the market combined with the sheer volume of multiple offers generated illustrates that there is a vast pool of buyers looking to secure a home.
Even though home values have far surpassed 2007 record levels, homes are still much more affordable due to record low-interest rates and much higher household incomes. After 16 record-breaking new lows in 2020, the start of January 2021 was greeted with a 17th record low, 2.65%, according to Freddie Mac's weekly Primary Mortgage Market Survey®. Rates climbed to 3.18% by March but then dropped. They have bounced between 2.77% to 3.14% since. Even at this year's 3.18% height, it would still be a record in comparing it to any time prior to the start of the pandemic in March 2020. As of December 23rd, rates were at 3.05%. This low-rate environment continues to instigate tremendous buyer demand despite rising home values. Household incomes have been methodically rising over time, which will most likely surpass $100,000 in Orange County this year, rising 38% since 2007. The current low-rate environment, coupled with higher incomes, continues to entice a flood of buyers to pursue the purchase of a home.
Within the past two weeks, demand dropped by 353 pending sales or 18%, and now sits at 1,591 pending sales, the lowest reading since January 2020. Last year at this time, demand was at 2,195, or 38% more pending sales. Year over year statistics is not really comparable though. Demand was hit hard initially last year when Covid was hit due to lockdown protocols. The Spring Market was delayed by four months and remained elevated through the year's end.
Orange county demand year-over-year (2018 - 2021)
Prior 30 days pending snapshot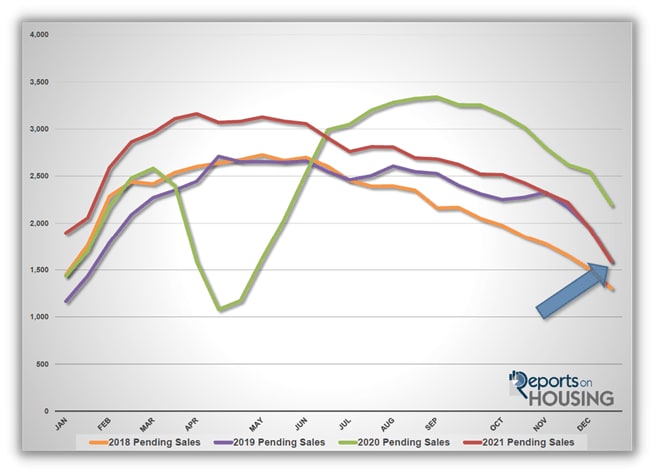 Orange County Housing Report | A 2022 Forecast
Luxury End
The luxury home market surpassed last year's record levels by an additional 89%, nearly double.

2020 was a record-setting year, providing the most sales ever above $1.5 million, 26% more than 2019, which happened to be a record-setting year as well. In 2021, Orange County reached for the stars and was up by 89% compared to 2020, shattering the prior record by over 2,500 closed sales. There were 6,109 closed luxury sales this year compared to 3,372 in 2020.
The luxury home market started off extremely strong. In the first quarter of 2021, there were 86% more luxury sales year over year. The second quarter of 2021 was up 262% due to last year's lockdown measures at the start of the pandemic. It was up by 45% during the third quarter, and up by 30% during the fourth quarter.
It has been an unprecedented year for the luxury market. Market times dropped to a Hot
Seller's Market level in March, a first for luxury since tracking began. It has remained hot
through year's end. As of the end of December, luxury demand is up year-over-year by 10 pending sales or 4%, and the active luxury listing inventory is down by 571 homes or 57%. Similar to the overall housing market, the luxury inventory is starved for homes, and buyers looking to purchase are eagerly waiting for additional homes to hit the market.
Orange County Housing Report | A 2022 Forecast
Expected Market Time
The amount of time it takes to sell a home dropped to insanely low levels in 2021.
The Expected Market Time, the amount of time it would take to place a home listed today into escrow down the road (based upon current supply and demand), started the year at 42 days, a Hot Seller's Market (less than 60 days), it's the hottest level since tracking began nearly 18-years ago. It dropped below 30-days in February and reached all-time record low at the end of November at 20-days. With a very limited inventory and white-hot demand fueled by a historically low mortgage rate environment, the market time has been extremely fast.
Orange county expected market time year-over-year (2018-2021)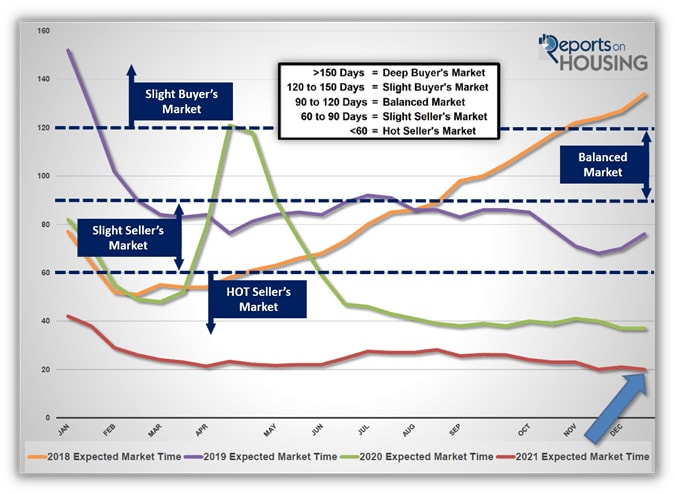 The Expected Market Time is the speed of the market, the lower the number, the faster homes are being placed into escrow. Anything below 60-days is considered a Hot Seller's Market where there are plenty of showings, multiple offers, sellers call the shots, and home values are on the rise. A new level emerged to adequately describe this year's torrid pace, market times below 40-days. Anything below this level is considered an Insane Seller's Market. That is a market with a flood of showings, an overwhelming number of multiple offers, sellers get just about everything their hearts desire in calling the shots, and home values soar.
Surprisingly, it has not let up at all during the Holiday Market, foreshadowing an incredible start to 2022 and a sizzling hot Spring Market. In the past two weeks, the Expected Market Time for all of Orange County dropped from 21 to 20 days, matching the record low in November.
Orange County Housing Report | A 2022 Forecast
The 2022 Forecast
Another year for housing
The shock of going into a pandemic may have disrupted the housing market in 2020 for a few months, but there was no disruption in 2021. Demand surged despite COVID's winter wave, summer delta wave, and the current omicron wave. If anything, it has kept a lid on mortgage rates. The only thing that will slow the speeding housing freight train at this point is raising rates; yet, as long as COVID continues to be a threat, rates will have a hard time rising much from their current record lows. Housing is one of the strongest sectors of the economy, yet the overall U.S. economy has been on the mend as well.
Retail sales have soared. Unemployment has dropped substantially. Job openings are surging. The number of homeowners in forbearance dropped below 600,000 by the end of December, and the vast majority of the nearly 7 million exits are either performing or paid off their mortgages in full. The economy has dramatically improved. Inflation may have risen to highs not seen in decades, but mortgage rates have not budged, indicating that investors are confident that the inflation pressures will subside and eventually retract sometime in 2022. The low-interest-rate environment will continue and will be a tailwind that will continue to fuel the incredible run on housing. As a result, the local housing market is going to be HOT in 2022. Here is the forecast:
Active Inventory – the year will begin with less than 1,000 homes, the lowest start by far since tracking began in 2004. It will be 60% less than the 2,522 stars to 2021, the prior record low. With very few available homes to purchase, housing will be extremely hot on January 1. The theme for 2022 will be the same as 2021, not enough homes for buyers to purchase. Instead, they will all be in escrow. Expect the active inventory to peak around August eclipsing 5,000 homes, well below the over 7,000 home peak prior to COVID.
Demand – with an anemic inventory and the historically low mortgage rate environment, buyer demand will be extremely strong from the start of the year through the Summer Market. With tremendous buyer competition, buyers will be
willing to stretch above the asking price; so, expect appreciation around 8 to 10%
for the year. Demand will be at its strongest, and most appreciation will occur
from January through July, and then will downshift during the Autumn and Holiday Markets.
Housing Cycle - the housing market will follow a normal housing cycle. The strongest demand coupled with plenty of fresh inventory will occur during the Spring Market. This will be followed by slightly less demand and a continued new supply of homes in the Summer Market. From there, demand will drop further along with fewer homes entering the fray in the Autumn Market. Finally, all the distractions of the Holiday Market will be punctuated with the lowest demand of the year and few homeowners opting to sell.
Closed Sales - the number of successful, closed sales will decrease 3 to 6% compared to 2021, with around 33,500 (2021 had the most sales since 2005).
Luxury Market – luxury housing will continue to be exceptionally hot, yet sales will drop slightly from 2021's record year. The Spring Market will be the strongest for luxury and will become a bit more sluggish with more Wall Street volatility during the second half of the year.
Interest Rates – look for mortgage rates to continue to remain at historically low levels until the pandemic improves dramatically, most likely during the second half of the year. Yet, rates will have a hard time surpassing 3.5%. Even with Federal Reserve reversing their MBS (mortgage-backed securities) purchases and raising the Federal Funds Rate (short-term rates), and heightened inflation, long-term mortgage rates will continue to bounce between 2.75% to 3.5%. If mortgage rates remain at these low levels, housing will be insane.
Distressed Inventory – do not expect a wave of foreclosures. The number of active forbearances will dwindle to nearly none. As home values have surged, very few homeowners are underwater, which is one of the main reasons the vast majority of forbearance exits are either performing on a monthly basis or paying off their loans.
The foreclosure moratorium resulted in very few foreclosures in 2021, so expect slightly more in 2022. Nonetheless, the total numbers will be very low and undetectable in the broader housing market.
The bottom line: 2022 will continue where housing in 2021 left off, insanely hot. It will be an Insane Seller's Market (an Expected Market Time below 40-days) from the start of the year through the Summer Market. Multiple offers and bidding wars will be the norm for homes priced below $2 million. Once again, the market will heavily favor sellers and buyers will have to pack their patience to isolate their piece of the American Dream and take advantage of record-low mortgage rates. From mid-August on, the beginning of the Autumn Market, housing will evolve into a Hot Seller's Market (an Expected Market Time between 40 and 60 days) with a bit less activity, not quite as many multiple offers, and fewer homes selling above their asking prices.
Orange County Housing Report | A 2022 Forecast
Orange County Market Time Report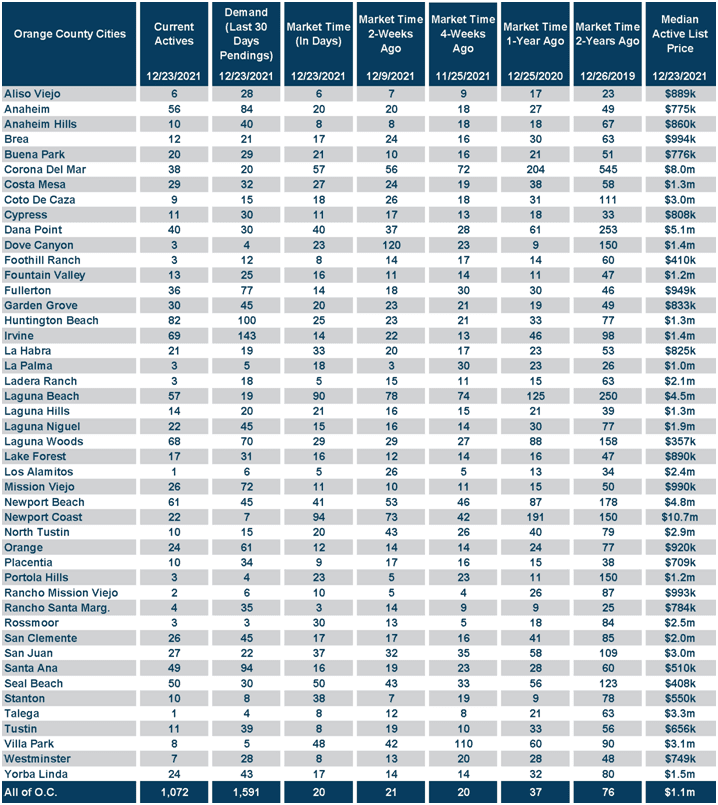 Orange County Housing Report | A 2022 Forecast
Orange County Price Ranges Report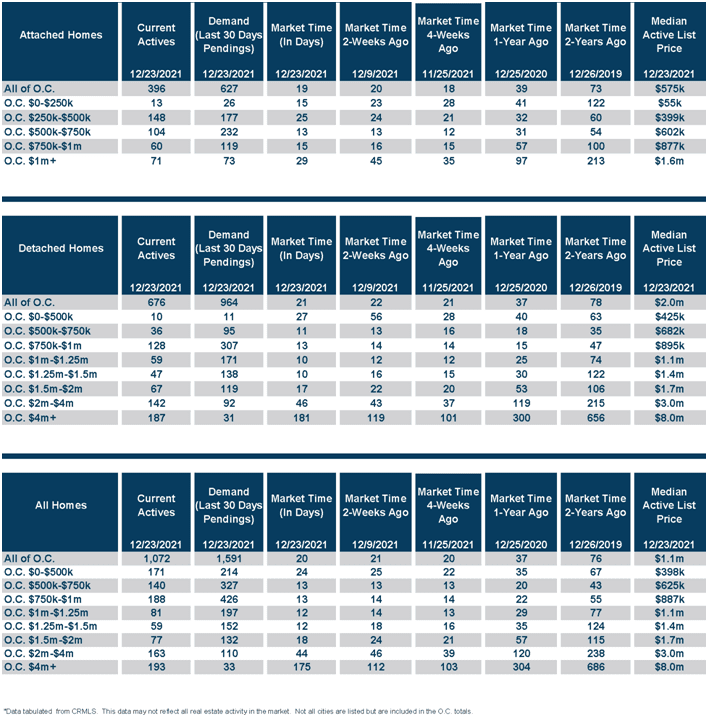 Orange County Housing Report | A 2022 Forecast
Orange County Sold Report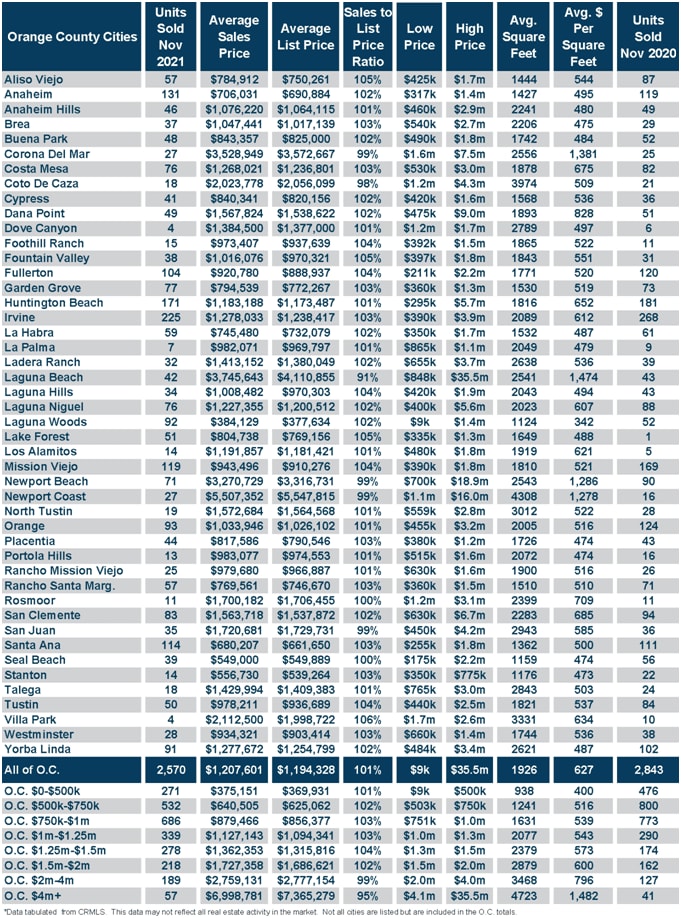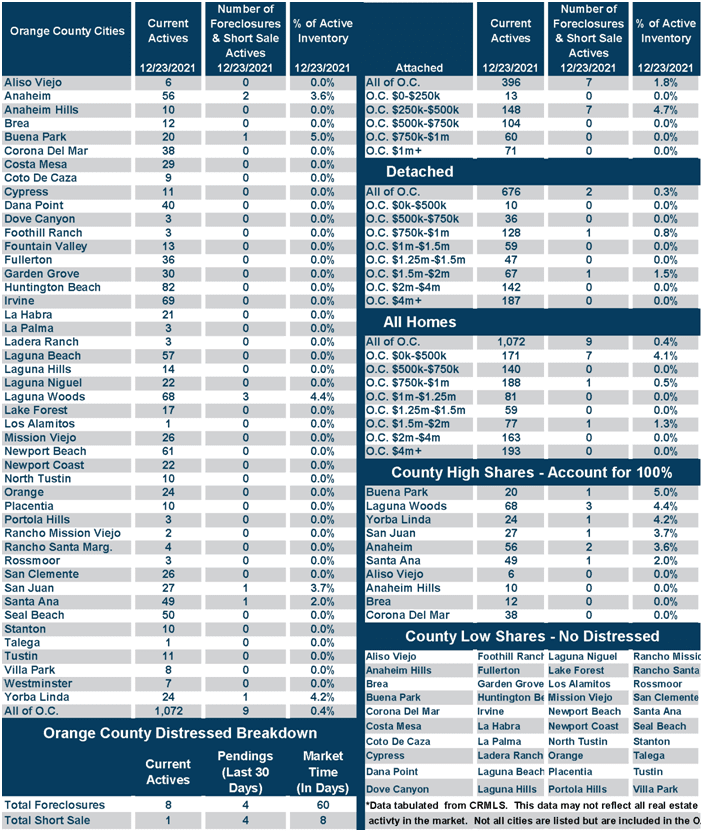 Orange County Housing Report | A 2022 Forecast
Southern California Housing Report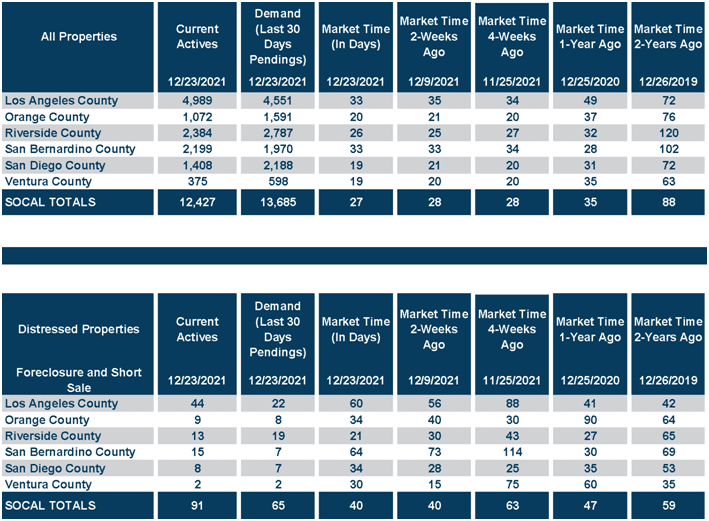 Orange County Housing Report | A 2022 Forecast